Fue la primera mujer en ser ministra de Economía de Francia y la primera en llegar a dirigir el FMI. Y todo esto sin poseer formación en economía. Nadadora eximia, talentosa abogada con una brillante carrera jurídica y hábil para moverse en las aguas políticas. Este año visitó dos veces la Argentina, un país que está pendiente de ella por el imprescindible apoyo financiero del FMI y por las condiciones que le impone al país.
La primera mujer al frente del Fondo Monetario Internacional (FMI) nació en 1956 en el hogar parisino formado por un matrimonio de profesionales de la docencia: el padre, Robert Lallouette, era profesor universitario de inglés y la madre, Nicole Carre, daba clases de latín en un colegio de secundaria. La muchacha y sus tres hermanos menores crecieron en El Havre, en la costa normanda, y recibieron la instrucción escolar en liceos locales. Christine, una joven alta y esbelta, destacó en la práctica deportiva de la natación y llegó a formar parte del equipo nacional femenino de la modalidad sincronizada.
En 1974, una vez aprobado el bachillerato y luego de perder a su padre, fallecido a causa de una dolencia neurodegenerativa, Lagarde marchó a Estados Unidos para disfrutar de una beca preuniversitaria en la Holton-Arms School de Bethesda, Maryland. Fue un fructífero año académico en el que tomó un contacto privilegiado con la política estadounidense, en plena efervescencia por el escándalo Watergate; en concreto, realizó en el Capitol Hill de Washington unas prácticas de asistente bilingüe adjunta al despacho del joven congresista republicano William Cohen, futuro secretario de Defensa y entonces miembro del Comité Judicial de la Cámara de Representantes que reunía pruebas para sacar adelante la destitución del presidente Nixon.
REBOTE INICIAL
De regreso a Francia, Lagarde se graduó por el Institut d'études politiques d'Aix-en-Provence (Sciences Po Aix). Su proyecto original era entrar en los escalafones administrativos del Estado a través de la École nationale d'administration (ENA), la célebre cantera de altos funcionarios y mandamases políticos de la República Francesa, pero no consiguió superar el exigente examen de ingreso. A cambio, se labró un currículum multidisciplinar en la Universidad de Nanterre (París X), por la que obtuvo una doble maestría en Idioma Inglés y Derecho Laboral, y un título de posgrado en Derecho Laboral.
Corría 1981 y Lagarde, con 25 años, redirigió su interés hacia la práctica de la abogacía privada. Surgió así un contrato por la firma internacional Baker & McKenzie, con sede en Chicago y oficinas en más de 30 países. Desde la delegación de París, la abogada francesa empezó llevando casos sobre conflictos laborales, demandas antitrust y fusiones y adquisiciones (M&A). Al cabo de seis años, fue admitida en la sociedad del bufete parisino y ascendida a jefa de la división de Europa Occidental. La carrera legal de Lagarde, apreciada como uno de los profesionales más capaces con que contaba la firma, recibió nuevos lustres en 1991, al otorgársele la condición de socia ejecutiva, y en 1995, al recibir asiento en el Comité Ejecutivo Global en Chicago. También, empezó a codearse con personalidades de la élite estadounidense como el politólogo y ex consejero presidencial de Seguridad Nacional Zbigniew Brzezinsk.
LA ABOGACÍA Y LA POLÍTICA
En octubre de 1999 Lagarde, a los 43, culminó su brillante recorrido en el mundo del derecho con el acceso a la presidencia de Baker & McKenzie. Bajo su liderazgo, el vasto bufete aumentó significativamente su volumen de facturación, éxito que fue destacado por la prensa económica. The Wall Street Journal Europa incluyó a la abogada gala entre las mujeres de negocios europeas más poderosas. En 2004 la política francesa llamó a su puerta. Fue a instancias de Dominique de Villepin, el nuevo primer ministro nombrado por el presidente Jacques Chirac, quien le telefoneó para preguntarle si estaba dispuesta a ser la ministra delegada de Comercio Exterior de su próximo Gabinete. Lagarde aceptó la oferta sin pestañear y el 2 de junio estaba en París para prestar juramento de su nuevo cargo gubernamental.
Nada más estrenarse en la política republicana, Lagarde hizo gala de mentalidad liberal al criticar la rigidez del mercado laboral francés.
Los comentarios de la flamante ministra de Comercio recibieron réplicas muy negativas, y en lo sucesivo Lagarde guardó discreción y se abocó a abrir nuevos mercados sobre todo en el sector tecnológico. El 18 de mayo de 2007 el nuevo primer ministro  François Fillon, nombrado por el flamante presidente de la República, Nicolas Sarkozy, movió a Lagarde al Ministerio de Agricultura y Pesca.
Tan solo un mes después, al constituir Fillon su segundo Gabinete como resultado de las elecciones a la Asamblea Nacional, Lagarde hizo historia al asumir el Ministerio de Economía y Finanzas.
No solo era la primera mujer en hacerse cargo de la política económica del Gobierno de Francia, sino también la primera ministra de Finanzas de una economía del G8. Sumando poder, capturó la cartera de Empleo y el departamento de Industria.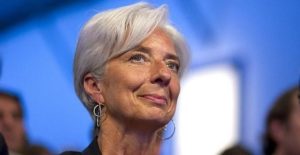 LA AUSTERIDAD EN CASA
En este período, Lagarde  fue co ejecutora del paquete de reformas estructurales de signo liberal concebido por Sarkozy y Fillon, y que hasta el advenimiento de la Gran Recesión en 2008 estuvo acompañado de una política presupuestaria expansiva.
Al arribar la recesión a Francia, en el tercer trimestre de 2008, el trío formado por Sarkozy, Fillon y Lagarde se decantó por un drástico giro a la austeridad que se sustanció en la reducción del funcionariado, en importantes recortes sociales y en el retraso de la edad de jubilación de los 60 a los 62 años.
Estas medidas de ajuste, contrastadas con una inyección estatal de capital de 10.500 millones de euros a los seis principales bancos privados para asegurar su liquidez, enfureció a los sindicatos, pero la protesta social no disuadió al equipo dirigente de perseverar en las medidas de ahorro y de aumento de la recaudación fiscal a través del impuesto especial temporal a las grandes fortunas, sendas subidas del IVA y del impuesto de sociedades, y la congelación de exenciones fiscales.
Con todo, a pesar de la austeridad fiscal, mantenida aun cuando el PIB galo recuperó la senda del crecimiento -del 2% anual- en 2010, Lagarde fracasó en su objetivo, trazado en 2007, antes del sísmo de Lehman Brothers, de alcanzar el equilibrio presupuestario aquel año: en vez de ser cero, el déficit, desbocado en 2009, marcó en 2010 el 6,8% del PIB, violación flagrante del tope del 3% fijado por el Pacto de Estabilidad y Crecimiento de la UE y que también se saltaba la deuda pública, trepada al 81% del PIB. 
 "EXCESO DE TESTOSTERONA"
A lo largo de 2010 la opinión pública francesa especuló con el reemplazo de Fillon por Lagarde, muy bien situada en los sondeos de valoración de líderes. Sin embargo, ella insistió en que seguía comprometida con el Ministerio de Economía y Finanzas, labor esta que para The Financial Times había sido la más meritoria de todos los colegas de la UE.
En febrero de 2011 la ministra gala se metió en los titulares cuando achacó el huracán financiero de 2008 en buena medida al "exceso de testosterona" en el mundo de las finanzas, contundente recordatorio de la necesidad que había de un mayor número de mujeres en puestos de responsabilidad.
El 14 de mayo de 2011 el director gerente del FMI, Dominique Strauss-Kahn, dirigente del Partido Socialista francés y ex ministro de Economía y Finanzas, fue detenido en el aeropuerto de Nueva York por la Policía estadounidense para responder de una denuncia de abuso sexual presentada contra él por una empleada de hotel. Cuatro días después, coincidiendo con el auto de acusación judicial en su contra, Strauss-Kahn dimitió.
LA LLEGADA AL FMI
Tocaba elegir al nuevo director del FMI, cuyo mandato era de cinco años, y todas las miradas se tornaron hacia Lagarde, vista por muchos como la sucesora natural de su compatriota caído en desgracia.
El 25 de mayo, desde París, Lagarde confirmó que era candidata a la dirección del FMI con el respaldo expreso de, además de Francia, Alemania, Reino Unido, Italia y la Comisión Europea, amén del aval implícito de Estados Unidos. Desde el grupo de los emergentes se materializó la postulación alternativa de Agustín Carstens, el gobernador del Banco de México. Las opciones para el mexicano, apoyado por varios gobiernos latinoamericanos además del español, el canadiense y el australiano, se desvanecieron cuando China, Rusia, India y Brasil, alineándose con las grandes potencias occidentales, indicaron que preferían a Lagarde.
La ministra de Sarkozy, enaltecida por los elogios pronunciados para la ocasión por varios colegas europeos y norteamericanos,  se metió su elección en el bolsillo.
Sin embargo, para ganarse la confianza de los países emergentes más recelosos, suscribió la tesis de que la tradición de adjudicar el puesto a un representante del Viejo Mundo estaba ciertamente "obsoleta", y aseguró que ella no pretendía ser "la candidata francesa ni la candidata europea".
Lagarde  afirmó  que no daría ningún trato de favor a los países de la Eurozona en graves apuros financieros entonces y que ya estaban acogidos a severos programas de ajuste económicos y austeridad fiscal a cambio de sendos paquetes de rescate crediticio. Estos eran Grecia, Irlanda y, justamente a partir ese momento, Portugal; en total, el FMI se había comprometido a auxiliar a los tres países con 80.000 millones de euros.
EL AFFAIRE TAPIE
En añadidura, Lagarde restó importancia al único aspecto oscuro que podía perjudicarla, su discutido proceder en el conocido como affaire Tapie, objeto de escrutinio por la justicia francesa y presuntamente constitutivo, según la fiscalía del caso, de un abuso de autoridad. Los hechos se remontaban a la resolución en 2008 por un tribunal especial de arbitraje, constituido el año anterior por decisión de la ministra, de otorgar una indemnización de 285 millones de euros por daños y perjuicios al conocido empresario Bernard Tapie; aquella decisión pretendía zanjar las disputas que había entre el banco de propiedad estatal Crédit Lyonnais y el ex ministro de los gobiernos socialistas y actualmente aliado político del presidente Sarkozy. En relación con este tema, Lagarde expresó su convicción de haber actuado "en beneficio del Estado y en estricto cumplimiento de la ley", y aseguró tener "la conciencia tranquila". 
El 5 de julio Lagarde tomó posesión de su despacho en Washington para encarar el "desafío inmenso" que suponía la prolongación, con múltiples frentes, de la crisis global iniciada en 2008.
En sus primeros mensajes como directora gerente del Fondo, Lagarde hizo una defensa cerrada de las exigencias de ajustes presupuestarios y reformas estructurales a Grecia.
Asimismo, Lagarde se comprometió a continuar el programa de reformas internas perseguido por Strauss-Kahn, continuadoras de las iniciadas bajo Camdessus y el alemán Horst Köhler (2000-2004), las cuales habían devuelto al FMI el protagonismo y el dinamismo perdidos bajo la dirección del español Rodrigo Rato (2004-2007). La apertura democratizadora impulsada por DSK había permitido a las potencias emergentes en rápido desarrollo tener una mayor presencia en la institución. Con ella, recalcó, este proceso seguiría adelante, aunque guiado por un "estilo de gestión basado en el trabajo en equipo y en las consultas a los demás".
Al debutar en la jefatura del FMI, Lagarde, cuyos emolumentos anuales netos iban a ser de 467.940 dólares (salario que era un 11% superior al cobrado por Strauss-Kahn y un 20% mayor que el de Rato, y al que debía sumarse una partida de 83.760 dólares para cubrir dietas y gastos de representación de justificación no obligada), tuvo que suscribir un nuevo código de conducta, elaborado a toda prisa a raíz del escándalo provocado por Strauss-Kahn, que afectaba a todos los funcionarios de la institución y a ella en particular. Así, la directora gerente debía satisfacer "los más altos estándares éticos" y evitar "cualquier apariencia de comportamiento inapropiado".
Lagarde podía acatar a pies juntillas el muy exigente reglamento ético del FMI, pero la justicia de casa la mantenía fiscalizada en el marco del affaire Tapie. El 4 de agosto de 2011 Lagarde no llevaba ni un mes dirigiendo el FMI -cuyo anterior jefe, Strauss-Kahn, hacía frente a un proceso en Estados Unidos por intento de violación- cuando la Corte de Justicia de la República (CJR),  accedió a la demanda del procurador general de la Corte de Casación, Jean-Louis Nadal, de abrir una investigación judicial para determinar su papel en el arbitraje del litigio Tapie-Crédit Lyonnais. Los magistrados de la CJR resolvieron dar luz verde a la investigación, que podía derivar en consecuencias penales para Lagarde si llegaba a ser imputada, al apreciar indicios de base para formular cargos por abuso de autoridad, complicidad en malversación de bienes públicos y falsificación.
Copyright, CIDOB

---
                     GUSTOS Y PAREJAS
Christine Lagarde, ordenada por Sarkozy oficial de la Legión de Honor en abril de 2012 y descrita como una entusiasta, además de la natación, del buceo, el yoga y la jardinería, que sigue una dieta vegetariana y que apenas prueba una gota de alcohol, estuvo primero casada con Wilfrid Lagarde, analista financiero del que conservó el apellido y que es el padre de sus dos hijos, Pierre-Henri, nacido en 1986, y Thomas, nacido en 1988. La relación conyugal no funcionó y luego ella, mientras dirigía Baker & McKenzie desde Chicago, inició con el empresario británico Eachran Gilmour un idilio que desembocó en segundas nupcias. También este matrimonio terminó en divorcio. Desde 2006, Lagarde mantiene una relación formal y pública con Xavier Giaconti, un hombre de negocios corso-marsellés y padre igualmente de dos hijos, fruto de un anterior matrimonio.
---