El Zar que conquistó América
 Con una fortuna personal de U$S 20.000 millones, el empresario de origen ruso es un referente de los medios audiovisuales y ha hecho de Time Warner, un gigante multimedia. Además, conforma un grupo que abarca negocios "duros" que incluyen aluminio, plásticos y Real Estate. ¿Cuál es su relación con Argentina y porqué se dice que quiere invertir fuerte en el mercado local?
El mito afirma que llegó a los Estados Unidos casi con lo puesto junto con su familia, en 1978 para poder estudiar en una escuela, con una noción básica de inglés. La realidad indica que actualmente, con 20 mil millones de dólares, se encuentra entre las 40 personas más ricas de la Tierra. Desde su sillón de CEO de Warner maneja los tentáculos de un negocio multimedia del entretenimiento que apuesta a innovar tecnológicamente en todos sus aspectos, desde cine, tv, música, shows, entre otros. Sin por eso dejar de hacer dinero con otras industrias pesadas alrededor del mundo y del real estate, un negocio que lo podría acercar a Argentina, país que conoce de sobra por lo muchos viajes que ha hecho y por su amigo y socio Alan Faena, con quien ya ha compartido algunos proyectos en Puerto Madero.
Born in the USSR
Leonid Valentinovich Blavatnik, nació en Odessa, Ucrania, pero en su primer año de vida se mudó a Moscú, Rusia. En junio de 1957 esto no hacía la menor diferencia, ambas ciudades formaban parte de la Unión Soviética (URSS), la nación más grande del imperio comunista. La era post Stalin que acababa de empezar con Breshnev como presidente -con un mea culpa sobre los "excesos" cometidos por el dictador- aflojaba un poco las riendas en la educación y sobre lo que se podía saber acerca de los países capitalistas, detrás de la "cortina de hierro". Len o Leonard, como sería apodado más tarde, era parte de la comunidad judía y mostró siempre gran interés en las historias de quiénes habían podido conocer otros países. Esto no le impidió asistir a la Universidad de Ingenieros Ferroviarios en Moscú, que dejó gustosamente cuando su familia le avisó que tenían visas para Estados Unidos. En 1978, recibió un master de Ciencias de la Computación de la Universidad de Columbia University y un MBA de la Harvard Business School en 1989.
Aprendiendo capitalismo
Después de obtener su residencia en Estados Unidos en 1984, Blavatnik comenzó a dedicarse a la compra de propiedades, aprovechando los precios bajos que tenía la alicaída ciudad de Nueva York de los años 80s. En 1986, con sus primeras ganancias, Blavatnik fundó Access Industries, un "pretencioso" conglomerado internacional con sede en Nueva York, del cuál era su chairman y su presidente. Pero por su carácter, a Blavatnik le gustaba hacer negocios donde otros no se molestaban en viajar.  De esta forma, Access pudo realizar acuerdos de largo plazo con holdings en  Sudamérica. Pero lo que fue su mayor ventaja frente al resto, fue su acceso al mercado ruso, donde invirtió en firmas rusas desahuciadas justo antes que el comunismo colapsara. La idea era comprar acciones a precio de ganga y esperar a que éstas crecieran. Así, con un amigo de la universidad como socio, Viktor Vekselberg, formaron el Grupo Inversor Renova, al que luego sumaron a Mikhail Fridman,pasándose a llamar Alfa Group.                                    Su empresa inicial Access, ya había diversificado de tal forma su portfolio, que incluía inversiones en industrias como Petróleo, Entretenimiento, Carbón, Aluminio, Petroquímicas-Plásticas, Telecomunicaciones, Media, y Real Estate.
La movida
Los socios de Alfa Group se reunieron en algún lugar a orillas del Báltico con poderosos hombres de la industria del Petróleo en Rusia. Nunca será oficial, pero se dice que pergeñaron un plan agresivo de compras para acaparar el precio del mercado petrolero en Occidente. Coincidencia o no, la primer gran fortuna del trío emprendedor se produjo en los ´90, con la fusión de Tyunmen Oil y British Petroleum, que pasó a convertirse en TNK-BP, la segunda empresa más grande de Rusia. En Agosto de 2005, Access Industries compró la procesadora de petroquímicos y  plásticos,  Basell Polyolefins, parte de la Royal Dutch Shell y de BASF por la friolera de U$S 5.700 millones. A su vez, en 2007, Basell completó su movida, adquiriendo la Lyondell Chemical Company una empresa por la que, se estima, pagó demasiado: cerca de U$S 19.000 millones. La convirtió en LyondellBasell Industries, y llegó a ser la octava compañía química del mundo en ventas. Pero nadie sabía mucho acerca de los pasivos de esta empresa, sobre todo los de Estados Unidos.
 Mala racha
En algún momento se dieron cuenta que la compra no había resultado tan buena. Para peor también perdieron en posteriores ofertas de otras empresas en venta del sector químico, como Hunstman Corp. y GE Plastics.                                                                                                   Blavatnik hervía, al tiempo que maldecía a los vendedores, a quiénes acusaba de racistas por no querer venderles sus empresas por su origen ruso y judío.
Pero la paranoia daría paso a algo peor: la realidad. Lyondell en Estados Unidos había entrado en bancarrota en sólo un año por su pésimo estado financiero. La desastrosa inversión, daba coletazos por todos lados debido a las abultadas deudas que dejó en el camino. Y aún peor: la maniobra lo había puesto en la mira del FBI.
En problemas
La mala inversión dejó al descubierto un entramado -al menos irregular- en las compras de Blavastky, quien por esos momentos, abril de 2010, sólo esperaba hallar la forma de salvar la inversión. Finalmente LyondellBasell emergió, amparada en el capítulo 11 de la protección a la bancarrota, logrando una posición financiera bastante mejorada. La empresa finalmente se salvó, recaudando en dos rondas para el pago de su deuda, U$S 3.250 millones y en otra U$S 2.800 millones, aumentando su valor en Bolsa un 103% desde ese momento. Access se quedó finalmente con solo el 14% de LyondellBasell.                              Dios da y quita. Ese mismo año, 2010, Blavatnik demandó a  JPMorgan Chase luego de perder U$S 100 millones por –según su testimonio- seguir sus consejos. En Agosto de 2013 le fue ordenado a  JPMorgan pagarle a Blavatnik U$S 50 millones en términos de reparación.                                                                                                 Mientras tanto, el FBI no había olvidado su caso y seguía sus pasos por sospechas de lavado de dinero, tanto en Rusia como en los Estados Unidos, a través de diferentes paraísos fiscales. Si bien no ha tenido condena, hoy se sabe que sus empresas utilizaron estas maniobras fraudulentas, no solo para lavar dinero, sino también se acusa a Blavastky de apropiación indebida de pozos petroleros y fraude financiero.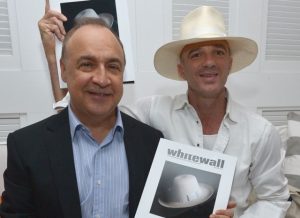 The Buenos Aires connection
Acces Industries es propietaria de la compañía Faena Group, especializada en real estate y sector hotelero. En nuestro país, la cara visible de este negocio es Alan Faena, con sus llamativas blancas vestimentas con sombrero y botas de vaquero.                Más allá del show, Faena controla, dirige y gestiona los intereses de su amigo en Real Estate en Argentina y otros países. Trabajan juntos desde 1999, nada menos que 18 años Y Len lo recompensa. Acosado por la prensa en uno de sus viajes lo enalteció: "Vine a invertir en Alan Faena", dijo. Juntos han levantado gran parte de Puerto Madero, los Hoteles Faena, hechos por los arquitectos Philippe Starck y Norman Foster. O el Faena Art District, que llevó una inversión de, al menos, U$S 100 millones, mientras que las nuevas residencias se podían vender a U$S 5.400 el m2. Además Faena y Blavatnik no se quedan sólo en Puerto Madero: tienen hoteles boutique en Bariloche, Punta del Este, el lujoso Faena District en Miami Beach y otros lugares del mundo, que podrían sumar casi U$S 900 millones.
El pasado 14 de junio, fecha de su cumpleaños 60º, Len le pidió al "cowboy blanco" algo fuera de lo común. Hacía algunos meses había visto el film "Gilda, no me arrepiento de este amor", y había quedó fascinado, no tanto con la historia, como con la actriz uruguaya Natalia Oreiro. Por eso, le pidió a Faena un regalo de cumpleaños: si podría arreglar todo para que la actriz interpretara a Evita, uno de sus musicales favoritos, en Londres el día de su cumpleaños. El ruso es admirador de los musicales y ha obtenido premios por ellos.     
La fiesta se realizó en su castillo, el Wrotham Park, y nada menos que Hugh Jackman hizo la presentación en un teatro improvisado. Fue precedido por una performance pensada y dirigida nada menos que por Baz Lurhmann, el director de Moulin Rouge. Se armó un balcón (imitando al del musical y al de la Rosada) y como no es cuestión de andar negándole favores a un millonario, Natalia Oreiro viajó, se peinó fuerte el rodete y cantó "Don't cry for me Argentina" para cientos de invitados VIP. Desde ese momento, Oreiro se ha encontrado ocasionalmente con el ruso, quien no descarta un musical en Brodway con la oriental como protagonista principal.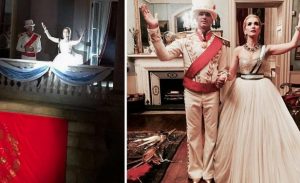 Warner
"Len" Blavatnik le cambió la cara a Time Warner desde que la comprara en 2011 a sólo U$S 3.000 millones. No venía en una buena racha: la MGM le había dado vuelta la cara a su propuesta. Así que decidió que Time Warner sería su brazo mediático, sólo que no pretendía competir solo con la industria discográfica, sino con toda la industria del entretenimiento.
El todo poderoso Netflix supo de su existencia, cuando el ruso adaptó recientemente a CNN, TBS y TNT, en una entrega de sus programas a través de Internet según los gustos de los espectadores, siguiendo las preferencias del usuario al igual que Netflix, sugiriendo a los espectadores qué es lo que pueden ver.
Esta app fue creada por iStreamPlanet, cuya participación mayoritaria fue comprada por Turner hace dos años por U$S 148 millones, para  dominar el "streaming". Warner, también del grupo, lanzó en Octubre una app con contenidos de los superhéroes de DC Comics, y se espera que poco a poco lo vayan haciendo todos los canales que dependen de Warner.                  Es conocido también el amor que Len tiene por los musicales. Este año se llevó un Tony y un Premio Brodway por haber adaptado el viejo programa de TV, Hello Dolly!, al musical. También ha dirigido y producido películas, que se han llevado sendos premios. Todo en dos años y gracias a su nuevo "chiche" Time Warner. Además tiene tiempo de donar incontables millones al British Museum, Tate Modern, Royal Opera House, National Portrait Gallery y el MoMA. Mientras tanto, Warner Music no sólo trepó en ventas, sino que por primera vez, el ingreso por contenidos digitales superó al ingreso por venta de copias en soporte físico (discos). Las ventas en soporte numérico -es decir, las descargas- implicaron el 53,2% del total, contra 48,3% en 2016, según números publicados por Variety. Evidentemente la industria del entretenimiento está cambiando y Bravatnik ya se está anticipando y divirtiendo.
—————————————————————–
Leonid Valentinovich "Len" Blavatnik
Fecha de nacimiento: 14 de junio de 1957 (60 Años), Odesa, URSS                                                                                        Medio de Vida: Inversiones internacionales, real estate, Warner  Nacionalidad: Ruso-norteamericano                                            Residencia:Inglaterra                                                                Ranking Millonarios: #40                                                  Patrimonio neto: U$S 19,8 mil millones (2017) Forbes              Premios Films-Musicales: 1)Premio Nika a la Mejor Película (2016 · My Good Hans) 2) Premio Tony al mejor reestreno de un musical (2017 · Hello, Dolly!) 3) Drama Award for Revival of a Broadway/ Off-Broadway Musical (2017 · Hello, Dolly!)                Películas: My Good Hans, Fire Birds.                                        Educación: Universidad de Columbia, Escuela de negocios Harvard, Universidad Harvard, Universidad Estatal de Moscú
————————————————————————-